3 Reasons You Should Have A TV Dashboard For Your Office
Why every office needs TV dashboard screens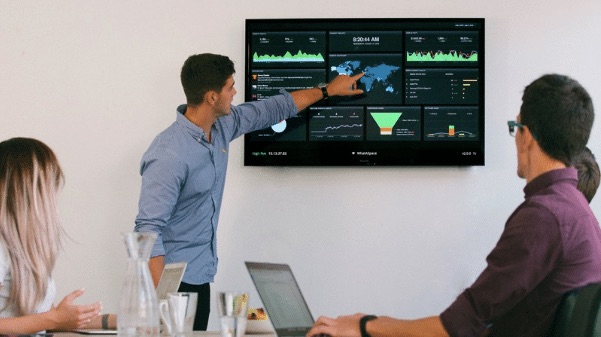 Designing an effective workplace department requires you to provide the right tools and devices for your staff so that they can perform their tasks as efficiently as possible. Besides buying the necessary hardware to accommodate connection to deal with client interaction, some office setups use a TV dashboard to improve office productivity.
TV dashboards curate a visual representation of relevant data of your business' progress, which can show a variety of information that improves organizational workflow.
Improving your business workflow
They have improved over the years from merely showcasing numbers and metrics to offering dynamic information on-screen. With the help of today's modern technology, a TV dashboard quickly and conveniently shows your business sales figures, important announcements, and key developments in your ongoing projects through a customizable multi-screen setup.
In this article, we will share three reasons you need a TV dashboard in your office
1. It promotes transparency in the workplace
One recurring problem that large businesses have is their inability to connect with new hires. Unlike handling a Small to Medium Enterprise (SME), larger enterprises work with a higher count of staff and employees to accommodate the growth of the company. Although this allows for higher sales figures, it also makes it challenging to keep company morale high with regards to motivating different branches and department staff.
It's easier to motivate your team if they're aware of their effect on your company. Having a TV dashboard in your workplace can remind everyone in your operation about your business' target goals' progress to keep them going.
2. It presents real-time data of your company's progress
Many businesses curate monthly or quarterly reports of their business' development, which allows businesses to learn from their mistakes and improve their work practices in the future. However, the danger with this practice is that the data reports often come too late. Every day counts when it comes to adapting and adjusting the errors in the business workflow, especially for companies that deal with retail and marketing.
If your staff gets access to data analyses promptly, they'll be able to improve accordingly based on real-time statistics. By having a TV dashboard software, you increase data transparency with the use of SQL reporting tools that can generate insights and data analyses of each departments' progress.
3. It prevents a 'blame culture' in the workspace
Blame culture is a common issue for many business owners who have trouble in running their company. Delays in deadlines and delegation of proper quality control on your business' operations are detrimental to your company's growth.
This is why employee accountability is a vital part of running an optimized business model. As a business owner, you need to know how to properly motivate your staff while avoiding conflicts between each department's output. Providing an overview of each department's impact on the company's growth will prevent project heads from lagging behind and allow them to optimize their work attitudes.
Conclusion
Properly showcasing your business' information with an easy-to-use dashboard display can make special meetings and daily information dissemination more accessible for you and your staff. Access to your business' performance through a TV dashboard allows your team to quickly gain access to vital data without being in front of their devices.
The key to improving your business productivity in today's times is to make use of the technological advancements in hardware and software to keep up with your competitors.
For more information on choosing the right setup for your TV dashboards, see our complete TV dashboard guide
At VuePilot, we help businesses optimize their data dissemination through the use of multi-screen TV dashboards that are compatible with all their devices. We help customers provide visibility and transparency into their business operations with simple to use TV dashboard and screen display software.
Sign up with a free trial with us today, and see how our cloud-based TV dashboards can improve your business productivity.