Use Cases
Display Dashboards
Your dashboards, your reports displayed on your screens. Just provide the URLs and assign them to your screens
Meeting Rooms
Display key meeting information such as timetables, documents, agendas and minutes on screens in your board rooms
Announcements
Make company announcements on big screens. Broadcast updates to events times or important employee info on big screens and stop sending emails no one reads
Useful Office Apps
Microsoft Power BI
Display and manage Microsoft Power BI dashboards & reports around your workplace with just a few clicks
More Info
Weather
Display local weather forecasts on screens around your business with current and upcoming temperatures
More Info
GitHub
Pull request dashboards with continuous integration status reports to keep developers informed
More Info
Tables
Display large screen tables. Easily create custom timetables, schedules and directories in seconds
More Info
Announcements
Easily create & display styled announcement messages with image themes for events and notices
More Info
Time & Date
Create beautiful custom styled time and date screens. Use your own images for background and styling
PDF Documents
Display PDF documents as beautiful full screen slide shows or individually as single pages to bring attention to documents & presentatons
Office 365 Documents
Easily display cloud based Office 365 Spreadsheets, Word documents & PowerPoints on screens in your business
More Info
How Does It Work?
Install the software on any Windows, Mac, Linux or approved hardware device, connect it to your screen and you've got a remote control TV dashboard.
Forget about fumbling around for the keyboard and mouse to update your office dashboard screens, you can do it remotely from the online dashboard and the comfort of your desk
Rotate through your company dashboards by simply creating play lists that contain the URLs to your reports and dashboards. Add some additional information screens like weather or time & date to enhance the functionality of your office TV screens
VuePilot works like a smart, remote control browser. If you can view it on your browser, then you can display it on screens with VuePilot
Key Features
Cloud Synchronized
Synchronise your screens, rotations and media automatically via the cloud in seconds using our API & fast content delivery network
Multi Screen Display
Connect and manage multiple dashboard screens to a single machine. Configure different content and intervals per screen
Digital Signage Apps
Add news headlines, announcements, images & video with just a few clicks. Inject some life into your boring dashboard screens
Power Managed
Automatically prevents display sleep and machine suspend so you don't need to fiddle around with power settings
Remote Control
Start, stop, pause and update your screens remotely from the online dashboard. Full control from the comfort of your seat
Hijack Screens
Hijack and display content on screens right now. For when you need to immediately draw attention
SHOW ME MORE FEATURES
Use Any Hardware You Want
Got an old PC laying around? What about a compute stick? Raspberry PI? NUC box? How about a Mac Mini? Use any Windows, Mac or Linux machine to run your TV dashboards using VuePilot.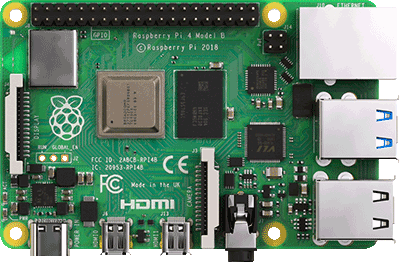 We provide software for all platforms and also provide guides for getting setup using your own hardware.
See our TV Dashboard Guide for more info on selecting the right hardware for your needs
Don't have anything? Want a device thats small and neatly fits away behind your screens? No problem, we can help you get setup with our small, powerful Raspberry Pi based hardware device thats capable of driving two screens from one tiny box that's about the size of your wallet.
Contact us for more info