VuePilot offers the ability to manage your account and users of your account from within the dashboard under the "Account" section
User Management
You can add additional users to your account via the Users section of the account management page.
There is no limit to the number of users you can add to your account. There is also no charge for adding users.
Users can be a member of multiple accounts and can easily switch between accounts using the account toggle at the top of the screen.
You have two options for adding new users to your account
New Users
You can invite new VuePilot users to your account, whom do not already have VuePilot accounts and one will be automatically generated for them with a new password you supply.
The new user can then sign into VuePilot as normal and they will be able to access your rotations, apps and content.
Existing Users
Users that already have an existing VuePilot account can also be added to your account by simply supplying their email in the "Existing Users" section of the Add User modal
Permissions
There are two permission types for account users.  Admin and Non Admin.
Both accounts have the same amount of access when it comes to editing rotations, apps and content, however only admins can manage the billing information, invite new users to the account and purchase new licenses.
Sub Accounts
Sub accounts can be used to seperate departments, create customer accounts for resellers and to isolate permissions and billing.
Each sub account will bill to the same payment method as the parent account, however it is managed as an independent account with it's own billing cycle and invoices
When creating sub accounts the user creating the sub account will be made an admin on the sub account by default.
You can then simply switch into the sub account from the drop down in the top of the screen and manage that account directly from the accounts page.
Sub Account Billing
Sub accounts will share the same payment method as the parent account which allows for a single place to manage payment details.
All sub accounts will establish a new subscription with a new billing cycle. Every sub account will result in an individual charge each month on your payment card.   ie 5 sub accounts will result in 5 charges for each account (6 if you also have a subscription on the parent account).
This can be used for accounting purposes and to cleanly associate each charge with each sub account.
Sub accounts are only needed for larger companies who wish to islolate teams and departments or for resellers to create accounts for clients which will share the same parent level billing account.
Adding Licenses To Sub Accounts
To purchase licenses in your sub account you must switch your  into your sub account  (from the accounts page on the dashboard) then you can purchase the license which will be associated with that account.
PLEASE NOTE You cannot move licenses from one account to another. If you accidently purchase a license in the wrong account, it cannot be moved to another account.  You will need to switch into the correct account and purchase the license within that account.
Please double check which account you are currently in before making your purchase.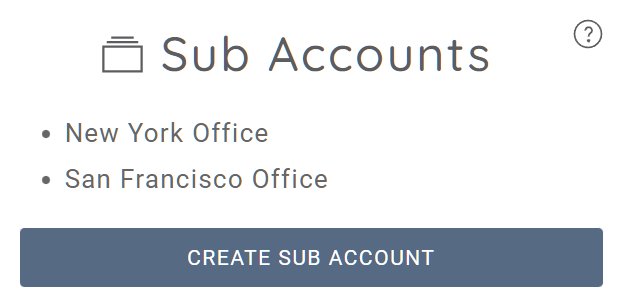 Account Name
We suggest you give your account a meaningful name, such as the name of your company as this will apear in various places and defaults to the individual users name by default.